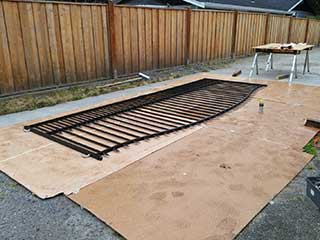 Gate Repair Irving can fix any damaged or malfunctioning component. From the hardware parts and the panels, to the opener and its accessories. We work with all types of automated systems regardless of design, size, or age. That means replacing broken gate wheels and hinges when necessary. It also means troubleshooting strange problems and getting to the root cause of each issue. Driveway gates, automated or manual, can experience all sorts of faults. The older they get, the bigger the likelihood of breakdowns. Good thing our emergency repair service is fast and dependable. We provide repairs on a 7-days a week basis, with a same-day response policy. In addition to fixing gates, we also specialize in installation and maintenance. We offer free quotes on custom driveway gates made of chain-link, iron, wood or other materials. Whatever you need in terms of gates, you can entrust it to us.
Professional Gate Repair Services
You can entrust us even with the most complex gate motor repair job and know you'll get a cheap solution and a reliable result. Driveway gates and other security/entrance systems consist of many moving parts. The mechanical aspect includes wheels, posts, tracks, and hinges, not to mention the huge panels or bars that make up the main gate structure. Of course, there's more to the system than the hardware. The gate opener, which also consists of various mechanical parts, also relies on electrical components. That means an extensive range of possible problems. Your gate may start reversing because of sensor misalignment or circuitry issues. Or, it can get stuck because the track is blocked or the hinges rusted. You may even need to replace damaged panels or do some welding repairs. Whatever service you need, Gate Repair Irving can provide.
High-Quality Gate Parts
Our professionals are always fully prepared to resolve any kind of issue. In case of a completely worn or broken component such as a sliding gate roller, for example, the solution is simple. We can replace it with a new one wheel has the same specs and perfect durability as well. We use only spare parts specifically selected for their high quality. We use the finest materials in our work as well. In case of rotten wood panels and posts, for example, the damaged material is carefully removed and specially formulated filler is used for eliminating the gap. These premium solutions don't come at a high cost, though. Gate Repair Irving believes in offering low-cost service rates. We believe that having a reliable driveway gate is something that every person can afford.
Complete Gate Installation
If a new driveway gate is what you're after, we can more than help. Gate Repair Irving offers thorough consultation and provides free estimates for new systems. From help during the shopping process to adjusting the settings of the opener and the intercom after the installation. We will do everything necessary to give you a system that functions without issues. You can consult with us on different driveway gate materials and their relative pros and cons. See what types of openers and intercoms or keypads we can offer you and which have the features you want. You can have a custom automatic gate built and set up from A to Z according to your preference and budget. One phone call and you'll meet an expert for the full rundown and a free consultation.
The Best Gate Experts Around
Whether it's minor or major repairs or an estimate on a new electric gate for your driveway. The specialists here at Gate Repair Irving provide fast assistance and quotes to all nearby areas. That means anyone near Dallas or close to Fort Worth can get in touch with us for help with automatic driveway gates or manual systems.
Swift Repairs - Get the best and cheapest solution to any gate problem on the same day you call.
Reliable Installation - consult with an expert and get a free estimate on steel or wooden driveway gates+openers, intercoms, and accessories.
Effective Maintenance - Enjoy optimal security, safety, and convenience at all times with regular maintenance appointments.
Whatever you need, the service team at Gate Repair Irving can help you with it. Check out our special offers and contact for any questions or emergency repair services!