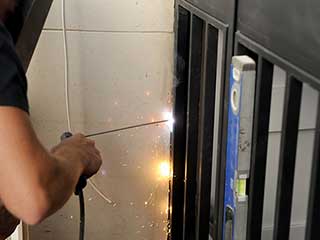 Whether you own a home or a business, you need to make sure that your property is safe and secure. A custom driveway gate lets you keep out uninvited guests while also providing an attractive entrance to your home. It can be hard to know exactly what type of gate is right for you. However, at Gate Repair Irving, we go the extra mile to help you find the ideal custom gate for your driveway or security entryway. We only use the best materials available to build and then install a setup that will stay reliable and presentable for a very long time. We offer custom gates and fences for any home, as well as top-quality personal service throughout the Irving area and nearby.
Irving's Best Gate And Fence Installers
A new custom gate is a great investment for your home, and it could cost a lot less than you think. Pick out the perfect iron, steel or wood gate to put the finishing touches to your property. Whether you're looking for a tough, resilient driveway gate to keep out intruders or a wooden garden gate, we can provide the ideal product. With free estimates all across Irving, it's easy to find out how little a new custom entranceway could cost.
Affordable Custom Iron Gates
What could be more impressive than a custom-designed iron gate? Choose from our stunning range of different designs to find a gate that complements the design of your home. If you need an entrance that makes a real impression on visitors, then it's hard to do much better than an iron gate for your driveway. Of course, while iron is a very strong material, it needs regular care and attention to prevent corrosion. Our technicians will give you in-depth advice on the proper maintenance necessary to protect your iron gate.
Quality Steel Gates
Many homeowners in and around Irving choose steel gates. This material has a reputation for strength and versatility, making it one of the most popular choices for driveway gates and fences. Steel offers the best security, as well as privacy. No bars and gaps means nobody can peek through to see what's behind the giant steel slab. In addition to traditional steel gates, we also supply and install chain link gates. These are a lightweight alternative that still provides excellent protection.
Swinging Wooden Gates
When you arrive at a home with wooden gates, you're immediately struck by their elegance. There's something about real wood that makes a home seem attractive, and custom wood driveway gates have undeniable curb appeal. Thanks to large panels and pickets, wooden gates and fences are also ideal for keeping your property safe from prying eyes. Just be sure to keep the wood properly painted and protected to avoid problems such as rotting and warping.
Top Quality Gates For Any Irving Business & Home
We install gates quickly and reliably, providing you with a stunning entrance to your home or commercial property. With an emphasis on quality and keeping prices low and affordable, it's no wonder why so many Irving driveway gates originate from us and our experts. Give us a call today to book a free estimate and consultation on gates for driveways, gardens, security entrances and more!