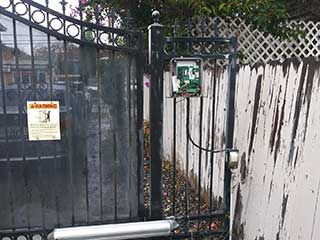 Modern electric gates are as beautiful as they are convenient. If you don't yet have an electric driveway gate opener installed, here is a collection of the best benefits that come from embracing such technology. Electronic openers are becoming more widely available and increasingly affordable.
The Practicality of Electric Gates
Sick of getting wet in the rain or caught in the cold early in the morning or late at night? With an electronic gate you won't ever have to leave the car while entering your driveway again. Avoid the rain, the dirt on your gate and the hassle each day of having to deal with a manual. Today there is an electric gate opener suitable for almost any design of gate
Keeping Up Appearances
When you have a manual, it's very rare that you'll be disciplined enough to open and close the gate behind you every time you come and go. It's more likely that you'll do what everyone else does and fall into the habit of leaving the gate open until the end of the day. Most modern electric gate motors have a reverse gear that will enable the door to close behind you after every use. This means your property can maintain a constant closed gate at its front throughout the day. This can be an advantage for aesthetics as well as security.
Simply Impressive
Guests, family and friends will love the welcome of a smooth functioning automatic gate at the face of your driveway. It can improve your home's curb appeal as well as raise the value of your property. It is possible to fit openers to both sliding gates and swinging designs. You have to be careful to purchase the correct packages for your gates dimensions and weight as an inadequate model won't work effectively.
Professional Electric Gate Services
Gate Repair Irving specializes in the repair and installation of residential electric gate systems. We can ensure you automatic gate is functioning perfectly so that your daily routine can get back to normal. Don't delay your electric gate repair any longer, call us today for a quote or for more information.
We also take care of:

Linear Gate Intercoms

Swing Gate Operator

Gate Clicker

Commercial Gate Service