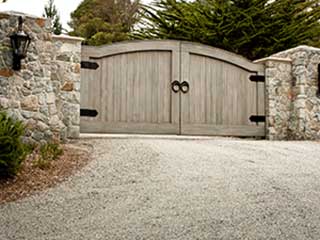 With our range of custom wooden gates, you get all the classic appeal you need to make your home look its best. We stock a huge range of custom designs including swing and sliding wooden gates, so you can easily find the right style for your home. Our specially-designed range of products lets you customize your new wooden gate to your exact requirements. Whether you want large pickets and panels to provide extra privacy or any other feature, our team is always happy to help. Speak with your local experts at Gate Repair Irving today to schedule a free estimate.
Wooden Gates For Driveways & Gardens
Wood is a fantastic material for gates and fences. Whether for your Irving driveway or a backyard garden, a wooden gate can offer you a lot. The natural texture of wood and the classic appeal and beauty it offers make wooden driveway and garden gates and fences very popular. Our products use only the top grades of timber, ensuring long-lasting durability. Wooden gates are naturally some of the strongest around and have many advantages over other materials. For instance, a wood gate can easily block the line of sight, since it consists of full panels. Many other materials leave space that people can look through. However, wood needs to be carefully sealed against the weather. Otherwise, it may begin to warp and rot. All of our products are properly protected from the first day, but it's important to schedule regular maintenance appointments with our Irving-based technicians.
Irving Wooden Gate & Fence Repair Experts
We offer fast, effective repairs for any and all problems you have with your gate. This includes common issues such as rotting or warping. You might also encounter other issues such as your swing gate sagging. If you need wooden gate repairs in Irving ,we're the team to contact. Our locally-based technicians have many years of experience and will be able to quickly any problem you have. For gate post repairs, too as well as wooden fences. We're familiar with all the ins and outs of treating wooden panels and know how to handle each potential issue. With us, your wooden gate always gets a fast solution to any problem afflicting it.
Affordable Wooden Gate Installation
We're proud to have installed wooden gates across the Irving area for years. Our rigorous professional standards mean that your new gate will work perfectly from day one, and will provide you with long-lasting reliability. A faulty installation process can easily leave your new sliding or swing gate with serious problems further down the line. That's why, when you want a new wooden gate installed at your home, it's our team that you should contact.
Gate Specialists Near You
For a new wooden gate, accept nothing but the best. Our Irving-based wooden gate experts will give you a free personal estimate for all our custom work. You'll find our prices are always reasonable. Why wait any longer? Contact us today to see how we could improve your home or business with a new wooden gate or for same-day repairs.