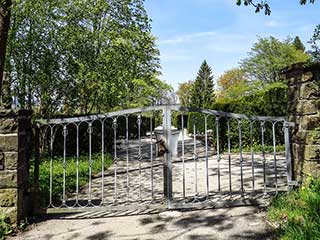 Custom Gate Installation
Our company customizes gates according to your preferences. We utilize wood, wrought iron and steel to achieve the aesthetic that you want. Wood is typically used to achieve a rustic design, wrought iron for a medieval look and steel for a more industrial aesthetic. We can also use one or more materials to create the look you're going for. Aside from the added aesthetic appeal to your home, residential security gates should be able to keep out unwanted people who may bother you, violate your privacy or even possibly cause you and your family harm.
Fixing the Sagging Gate
A gate should be durable enough to create a barricade between your home and the outside world. This is only achieved if the door panels of the gate meet. Any gate that's composed of any material will be susceptible to sagging. If you have a wooden one, it is likely that rot is the culprit for such a detrimental effect. For metal doors, failing hinges and sagging door panels are most likely caused by weak welds. When you call us to fix your sagging gate, we'll reinforce both the door panels and the post. We'll repair welds, hinges and posts or replace them if parts can no longer be salvaged. We also replace entire door panels if that is what is needed.
Remote or Automatic
We provide residential gate openers for gates to allow you more freedom with the controls. With a remotely controlled opener, you no longer need to step out of your vehicle just to operate your gate. You can just push the button on your remote and you'll be able to leave or enter your driveway with ease. When it comes to automatic gates, this convenience is taken to the highest level. No longer will you need to push a button, you just need to drive your vehicle within range and - Voila! - You're in.
An Intercom System for your Residential Gate
Even if automatic residential gate openers may be able to open gates for people that are authorized or have been given access, there is still a need to have intercom systems installed. Intercoms allow you the ability to know who is at the door before you let them in. You can get this crucial security feature from us.
Call us today and learn more about our intercom systems.
Want more? Let us take care of:

Aiphone Gate Intercoms

Ornamental Iron Gates

Multicode Remote

Sliding Gate Wheels