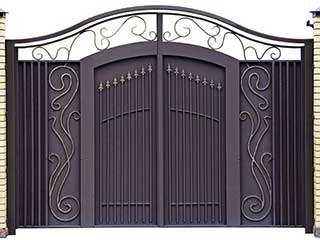 A good quality driveway gate is an important part of any Irving property. Not only does this help to keep your home secure from would-be intruders, but it's also the part of your home that people see first. Invest in a high-quality custom driveway gate to create a great first impression on guests and complement the beauty of your home. At Gate Repair Irving, we offer a huge range of attractive gates for all types of homes. Whether you need a wooden sliding gate or an iron swing gate, we can provide the perfect match. To find out more about our low rates on custom gates, simply get in touch with us for a free estimate.
Discount Gate Repair Services
Any external fitting is subjected to a wide range of potentially damaging hazards. This ranges from cold and wet weather to accidental damage and component failure. All of these issues can be important to fix quickly. For instance, if your driveway gate jams open you won't have any protection for your property. This needs fixing as quickly as possible, and that's why you need our Irving-based team. Our technicians work fast to deliver high-quality solutions when you need them. If your iron gate is rusting or your wood gate starts to sag, simply get in touch to arrange a gate repair service.
Fast Installation For Irving Driveway Gates
Our technicians are highly experienced, having spent many years installing driveway gates in Irving and the surrounding area. That means when we fit your new entranceway it doesn't take long before you can reap all the benefits. We keep hassle to a minimum, and our low prices make us the company of choice for homeowners all over the local area. Find out how little our gate installation services cost by scheduling a free, no-obligation quote with our locally-based team.
High Quality Driveway Gates – Iron, Wood, Steel
We never compromise on quality, because we know that our customers deserve the best there is. From sliding gates to swing gates, in iron, wood, and steel, we deliver the best driveway gates around. That doesn't mean that you'll have to pay high prices, though. We pride ourselves on keeping our rates affordable for everyday Irving homeowners looking for new driveway gates. That means it's easy to invest in a great new custom gate for your home. Speak with our technicians today to find out just how reasonable our rates are.
Wood vs Iron For Gates For Driveways
So which material makes for the best choice for your Irving driveway gate? Well, both have their pros and cons and send a different stylistic message. Wooden gates offer a classic look for the driveway. It will need regular repainting, though, to protect it from moisture. An iron gate with a custom frame design displays an elegant front that many prestigious establishments love. It's stronger than wood but tends to be heavier too. The iron bars won't allow for the same level of privacy, though. Plus, iron gates also need recoating regularly, to prevent corrosion.
Your Local Driveway Gate Experts
So how do you choose which gate is best for your Irving driveway? You simply consult with us – for free! No matter whether you need a quality new driveway gate or some emergency repairs, we're always on hand to provide a solution. Simply get in contact with our team today to see what we can do for you. Our no-obligation free quotes make it easy to learn more.