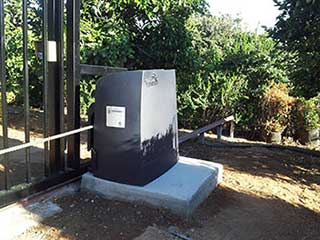 You know that gate opener you've been meaning to have installed before the autumn rains started? If you're like most people, you only really give your gate opener a passing thought when you are leaving or entering your property. But what about those freezing rainy days? You still have to go leave the house to go to work or take the kids to school but first, you need to open your gate.
Automatic Driveway Gates In Irving
Without an opener, you need to get out of your car to open the electric gate, then get your car through the gate before closing the gate again. If you don't have your rain gear on, this simple action will result in your getting drenched. Complete your gated entrance with a quality gate opener from brands like Eagle Gates or FAAC, to name a few. Let our experts at Gate Repair Irving show you how to turn your inconvenient gate, into one you will love. We've got the perfect opener for you.
Underground Gate Openers
Underground openers are ideal when you don't have a lot of space to work with around your driveway gate. They also work well when you just don't like the idea of the control box or panel being visible. With an underground gate opener, the mechanics of the device are nestled in a secure metal box and set beneath the surface of your driveway gate. Not only will this look better, but it will also free up space around your gate. As a result, an underground gate opener is a little more complicated to install. That means it will also be more expensive. However, if you are willing to invest in an underground opener for a driveway gate, you won't be disappointed.
Swing Gate Openers
Swinging gates are the most commonly installed gates for residential use and they are also among the most economical to install. Swing gate openers work well with single gates but you can also have one installed for a double gate. you can also have the swing arm mounted on the top of the gate or the bottom. The most important aspect for you to consider is the weight of the gate. It is imperative that you install a gate opener powerful enough to work with the type of gate you have.
Sliding Gate Openers
If a sliding gate opener is what you need, there are a number of different types you can choose from. depending on the type of motor you would like installed, it could be a chain-drive, rail drive or rack, and pinion slide operators. FYI, the term gate operators and openers are often interchangeable. They all work really well and are great for larger sliding gates or for those who want their gates out of view when they are opened.
The Best Gate Openers Near You
Whether you want a gate opener installed on an existing system, or you'd like us to work with you to have a new electric gate installed – we can help. Call us today and we'll send one of our experts to take a look at your property and show you what options you can choose from. Remember, we offer same-day gate opener repairs 7-days a week, so let us know if you have any type of problem with an existing unit.
Let our team take care of it for you!

Phone Entry Systems

Doorking Gate Opener

Security Gate Repair

Ornamental Iron Gates