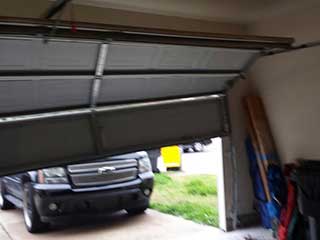 There is a lot that can go wrong with your garage door system, just like with your automatic gate. It's our team's specialty to quickly find an effective and affordable solution to these problems when they occur, and we are one of the leading service providers around, especially when it comes to garage door repairs. No matter how complex the issue you're dealing with seems to be, rest assured that our technicians will be able to solve it.
Bent Tracks and Damaged Rollers
Due to extensive use, a lot of different parts of your garage door system will begin to break down after a while. The tracks are known to pick up little dings over time, and once that accumulated damage begins to prevent the rollers from moving through them smoothly, you have a problem on your hand. Your door could end up getting stuck, which will put a lot of extra strain on other parts of the mechanism. Be sure to have our experts safely realign and straighten your tracks if that happens, because this type of problem can be dangerous for you to attempt to repair on your own.
Professional Spring Replacement
Speaking of dangerous problems, there are probably no parts more potentially risky to handle than your garage door springs. These components are under tremendous stress on a regular basis, and when they break they can whip around and cause severe lacerations to anyone standing nearby. Don't ever try to replace broken or worn springs by yourself, as you could get seriously hurt. This is something that you should always leave to our professional technicians.
Expert Opener Repair
A lot can go wrong with your automatic opener. This device operates similarly to its gate related counterpart, which means it can incur both mechanical and electrical problems. Whatever the issue may be, our technicians know exactly how to handle worn motor gears and fried circuit boards, and we'll quickly replace the affected component and bring your opener back to an optimal working condition.
Emergency Services Available
If you find yourself in need of an urgent response, our team at Gate Repair Irving will get to you as soon as possible. Give us a call when you find a problem with your garage door and our experts will fix it in no time at all.