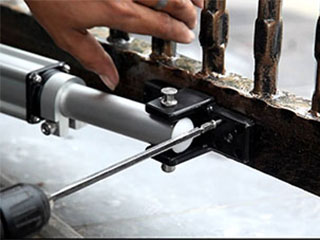 Are you experiencing issues with your security gates? A faulty opener or hinge, or a gate motor that no longer works can be more than an inconvenience. All these issues and others similar to them can compromise the security of your gates and create vulnerabilities. The good news is that we provide gate repair services before vulnerabilities become threats.
Iron Gate Repair
Whether they are made from wrought iron or not, iron gates are susceptible to hinge, opener, and alignment problems. Sometimes hinge welding repairs or replacement are necessary. When they are carried out by a professional team, these repairs can last many years, maximizing the lifespan of your iron gate. We recommend that you address problems as soon as they appear. Our iron repair services are fast and transparent.
Driveway Security Gate Repair
Driveway gate issues can be especially annoying. It's not at all pleasant to have to leave your car and push the gate open or pull it close, much less if it's raining. But the issues that affect driveway gates are not that different from those of other gates. At Gate Repair Irving we often deal with driveway gates. We know what to look out for and how to best solve any issues before they become unpleasant. Our experienced technicians are professional and efficient. Once their work is done, they will carry out safety tests to ensure the best results possible.
Gate Motor Repair
Security gates usually get a lot of traffic. They are opened and closed many times, and this makes them susceptible to a variety of problems, including gate motor issues. If your motorized gate stops working, gets stuck when you try to close it, or works too slowly, it's likely a motor problem. We recommend you fix the issue soon in order to save the motor and avoid the higher cost of a replacement. Motor repairs are one of our specialties.
Repair Your Gate Now to Increase Security
Don't postpone security gate repairs – keep your property and your family safe. Our technicians are ready to help. Call us now.
We also offer the following:

Phone Entry Systems

Rollup Gates

BSL Gate Opener

Swing Gate Post Repair